About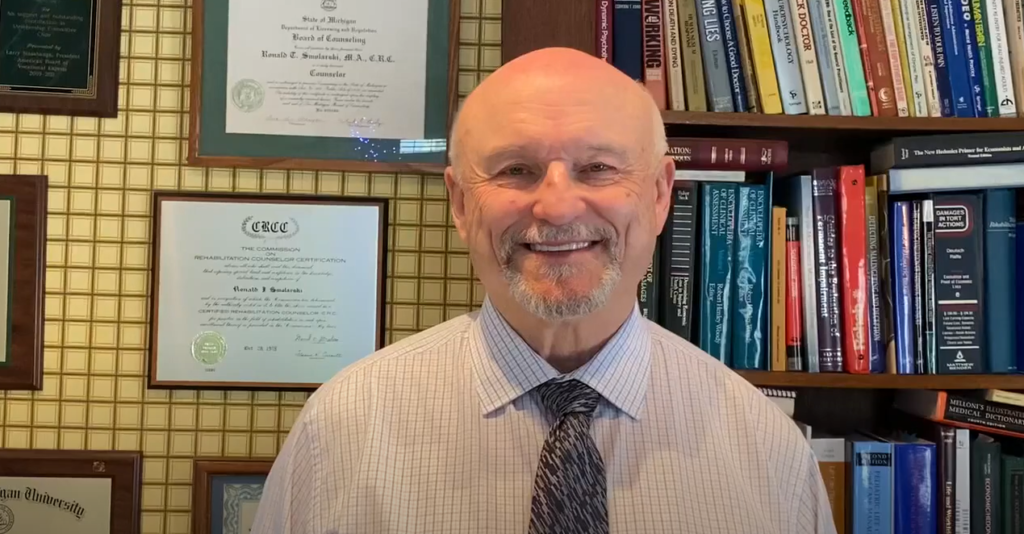 Beacon Rehabilitation Services, Inc, based in Ann Arbor, Michigan, provides a one-stop damages approach with nationwide services in the fields of life care planning, forensic economics, vocational evaluation and testing, rehabilitation evaluations, functional capacity evaluations, and Day-and-a-Life Filming. Founded in 1979 by Ronald Smolarski, Beacon Rehabilitation remains a nationally recognized damages expert service ready to make a material difference in your case!
Our Mission Statement
To provide legal support to personal injury attorneys [plaintiff and defense] and their clients as a damage expert, delivering comprehensive, reliable analysis of catastrophically injured individuals.
The Beacon Rehabilitation Difference
The services that I provide are unique. I employ a one-stop damages approach applying all 24 worker traits that the U.S. Department of Labor uses to match a worker to an occupation. My methodology is peer reviewed with a reliability score of .90, including a standard error of estimate and standards. I apply the standards of practice for life care planning using real world medical costs, instead of government discounted costs. I also use industrial norms when conducting functional capacity evaluations, while making determinations of a worker's ability to function at a competitive and sustained rate. I then combine my findings to determine the future value, past value, growth rate, and discount rate. Lastly, I determine the future value and present value of lost wages or wage capacity, household chores, benefits, future medical, work life, and life expectancy. All of this is bundled into an easy-to-understand combination of comprehensive damage reports, which provide the foundation for the theme of your case. I also provide Expert Witness services for depositions and trials and Day-and-a-Life filming.
About Ronald Smolarski
Ronald Smolarski has worked in the field of Accounting since 1970, when he served in the United States Air Force. He is a proud graduate of Western Michigan University (Business/ Economics) and Michigan State University (Rehabilitation Counseling). Mr. Smolarski has provided his expert witness services in hundreds of cases nationally in more than 25 states, and outside the country in locations such as South Africa, Germany, Canada, and China. He has received specialized training in several focuses including Vocational Evaluations, Forensic Economic Evaluations, Life Care Planning, Functional Capacity Evaluations, and Transferable Skills Analysis.
Mr. Smolarski, MA, CLCP, CEA, CRC, IPEC, LPC, CCM, CVE, CRV, CDEII is a Certified Life Care Planner and is a member of numerous associations, including the National Association of Forensic Economists, the National Association of Disability Evaluating Professionals /Commission on Health Care Certification, the American Rehabilitation Economics Association, American Academy of Economic & Financial Experts, and Collegium of Pecuniary Damage Experts.
He is a diplomate of the American Board of Medical Psychotherapists, the American Board of Vocational Experts, and the International Association of Rehabilitation Professionals.
His research, presentations, and contributions within his areas of expertise are wide-ranging, with published essays and articles in top-industry publications, such as:
Journal of Forensic Vocational Analysis, Official Publication of the American Board of Vocational Experts (ABVE), Winter 2021, Vol. 20, No. 3, "Household Chores Damage Assessments"
Journal of Forensic Vocational Analysis, Official Publication of the American Board of Vocational Experts (ABVE), Winter 2021, Vol. 20, No. 3, "Review of MVQS Worker Trait Factor Analysis"
American Rehabilitation Economics Association (AREA) Annual Conference – Seattle, WA "Worker Trait Factor Analysis – Reduction of Ability Determined by Worker Traits", a real case study example of using the McCroskey program to facilitate the determination of vocational damages. Worker trait factor analysis using a sample case (names changed) and raw case data including test results. This involved access to employment, transferable skills, wage capacity and clinical judgment – June 2012.
Inter-Rater Reliability Study pertaining to vocational quotient and prediction of earning capacity: McCroskey, B.J., Smolarski, R. & Haskin, R. D. (1995, 1996). MVQS Inter-Rater Reliability Results: Parts 1 & 2. The Vocationologist, 2(1), pp. 67-68, Fall, 1995. Reprinted in: The Vocationologist, 3(1), pp. 10- 11, Winter, 1996